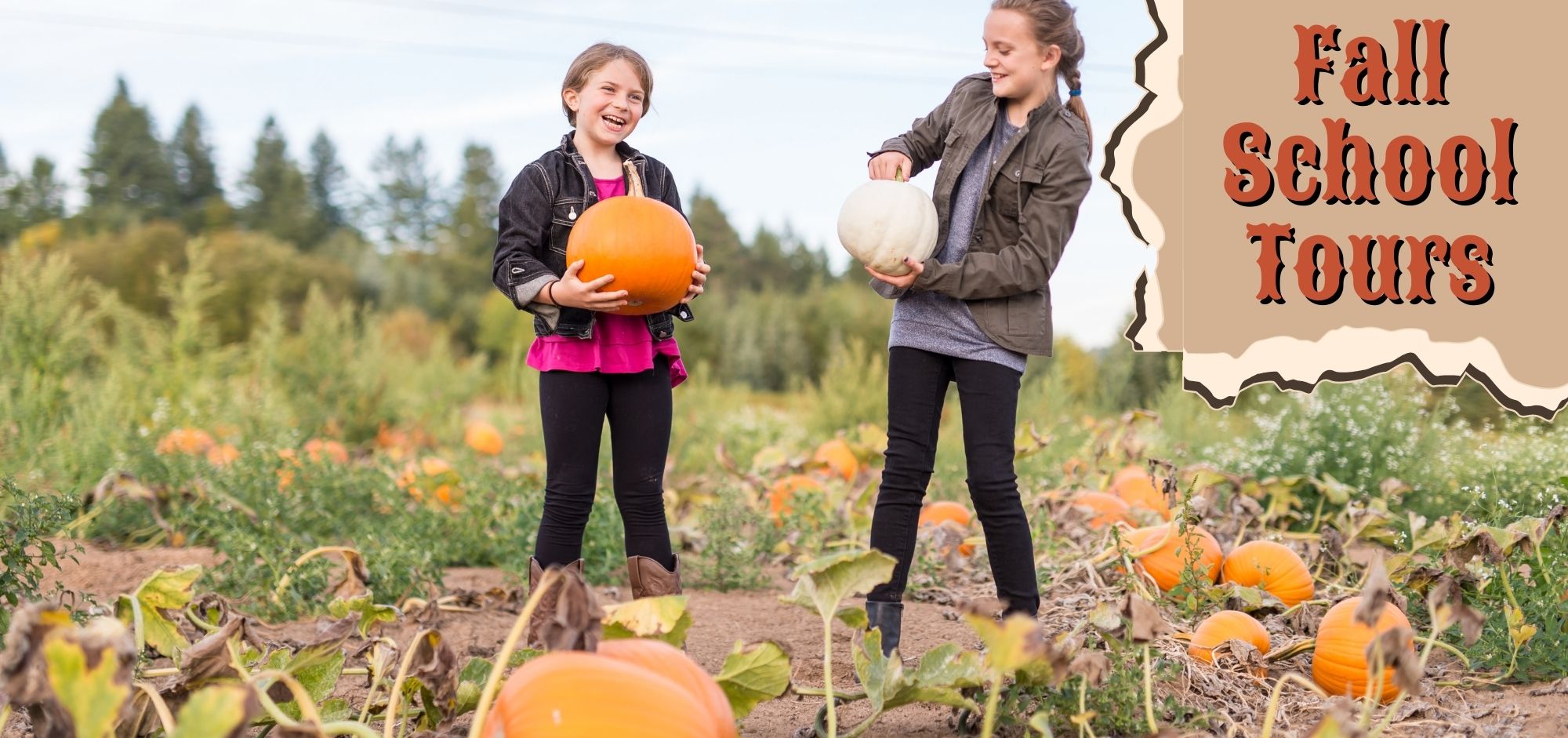 Fall School Tours
This year we have decided to offer a school tour program that offers a program with less touch points so your students can have a safe fun-filled fall learning experience at the Ranch.
Your students will enjoy a wagon ride to the Pumpkin Patch where they will pick their own small pumpkin from the vine to take home.
Walking in the Pumpkin Patch will give the students an understanding of how pumpkins are grown.  We encourage teachers to take time for some hands-on learning & exploration, as well as let your students identify the vines, leaves & pumpkins in their natural environment.  We will be providing you with a pumpkin patch exploration sheet with activities to do while you are in the patch.
We will also supply all teachers with a pumpkin investigation sheet to take back to the classroom to further the students' learning with their pumpkins they picked at the Ranch.
Each teacher can pick their own 'any size/any colour'  pumpkin for the classroom.
Students will also enjoy visiting the Petting Zoo and playing in Ranchland:  Western Fort with ziplines and slides, Barnyard Boxcars, Moo Maze, pedal cart racetrack, cornfield maze, tumbleweed turnabouts plus many more fun activities.
Cost:
2 1/2 hours: $9.95 +HST morning or afternoon (includes lunch at the Ranch)
4 – 4 1/2 hours $12.95 + HST
Minimum group size: 10 people to receive above discounted prices (regular price: $16.99)
Teachers & EA's are free.  Parent helpers are the same cost as students and include an 'Any size/Any Colour' PYO pumpkin
Tours available Wednesday – Fridays September & October 2021