Plan your visit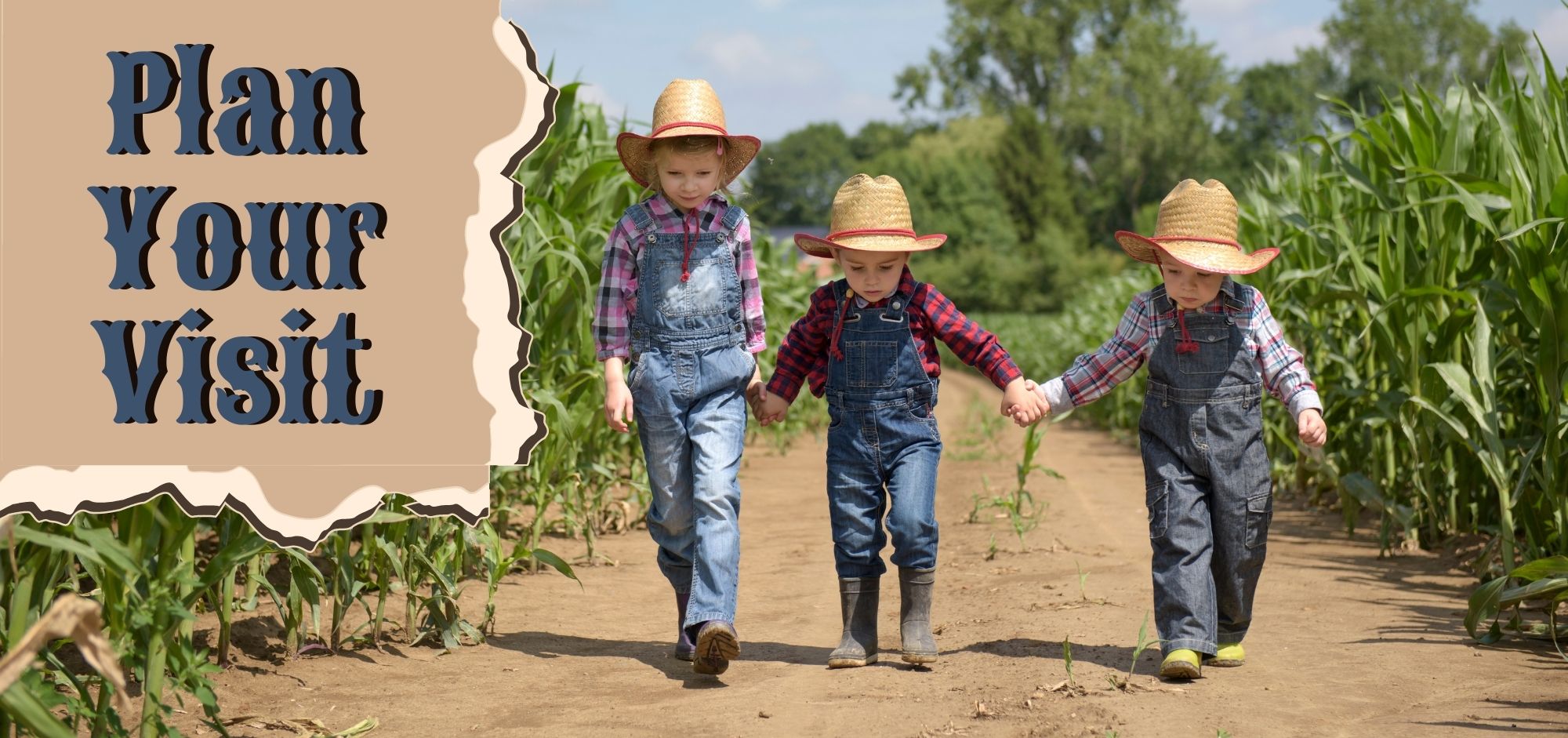 Plan Your Visit
Tips for Your Visit to Rounds Ranch
Tickets
Tickets are available at the gate or you can purchase them in advance online to save $. The further out you purchase your tickets the greater the savings (up to 33%!)
Dress for the Weather
Check the weather before coming and dress accordingly. We are open rain or shine so come prepared with rain jackets and umbrellas. Dressing in layers will allow you to add or remove clothing throughout the day. We recommend a supportive pair of walking shoes to keep your feet comfortable (avoid sandals, crocks, flip flops, or high heels). For small children we recommend shoes that can easily be put on and taken off as you cannot wear shoes on the Jumping Pillow. We recommend wearing socks on the jumping pillows as it can get very hot on sunny days
Rain
We are open rain or shine. If it begins to downpour within 45 minutes of your arrival and you wish to leave within that time, you will receive a rain check to come back for a visit another day. You must present your proof of purchase (time must be within 45 minutes) in order to receive the passes.
Pack the Necessary Provisions
Consider bringing water bottles, sunscreen, towel & bathing suit – suggested but not mandatory (for Slip'n'Slide, Water Maze and Bandits Bubble Bash) , socks for the Buckaroo Bouncers (jumping pillows), comfortable shoes to wear on uneven terrain.
Bring your own Wagon
We have a limited number of wagons to use as a stroller for your young child so it is advisable to bring a stroller as our property is quite large for wee ones to walk. Large wheel strollers work much better than the small wheels in our fields and petting zoo.
Yes, small dogs are allowed
You are welcome to bring your small dog if you keep him/her on a leash and clean up behind them. Only lap dogs are allowed on the wagon ride as some of our guests may have a fear of dogs. Please do not bring your dog near the Pony/Horse riding corral. If your dog is bothering our petting zoo animals please take your dog to a different area of the Ranch.
Food
Our Cookhouse is open serving hamburgers, hot dogs, fresh cut fries, poutine, hot and cold drinks, snacks and treats. You are welcome to bring your own food if you have a special diet.
Pony/Horse ride tickets available for purchase at the gate. You will be given a ticket with a time written on it. Be sure to arrive on time for your pony/horse ride as there are no refunds and no rebooking for missed pony/horse rides. Therefore, do not go on a wagon ride within one hour before your pony/horse ride.
Expect to stay 2 to 4 hours. Rounds Ranch has over 25 attractions that will keep all ages entertained for hours. Allow about one hour for wagon rides out to the lavender, sunflower or pumpkin field.
Take lots of photos while at the Ranch to post on social media. We often have contests so you want to make sure you have lots of photos to choose from.
Have Fun! Thank you for visiting Rounds Ranch. We hope you enjoy our Ranch as much as we enjoy Creating Fun for You!