Plan your visit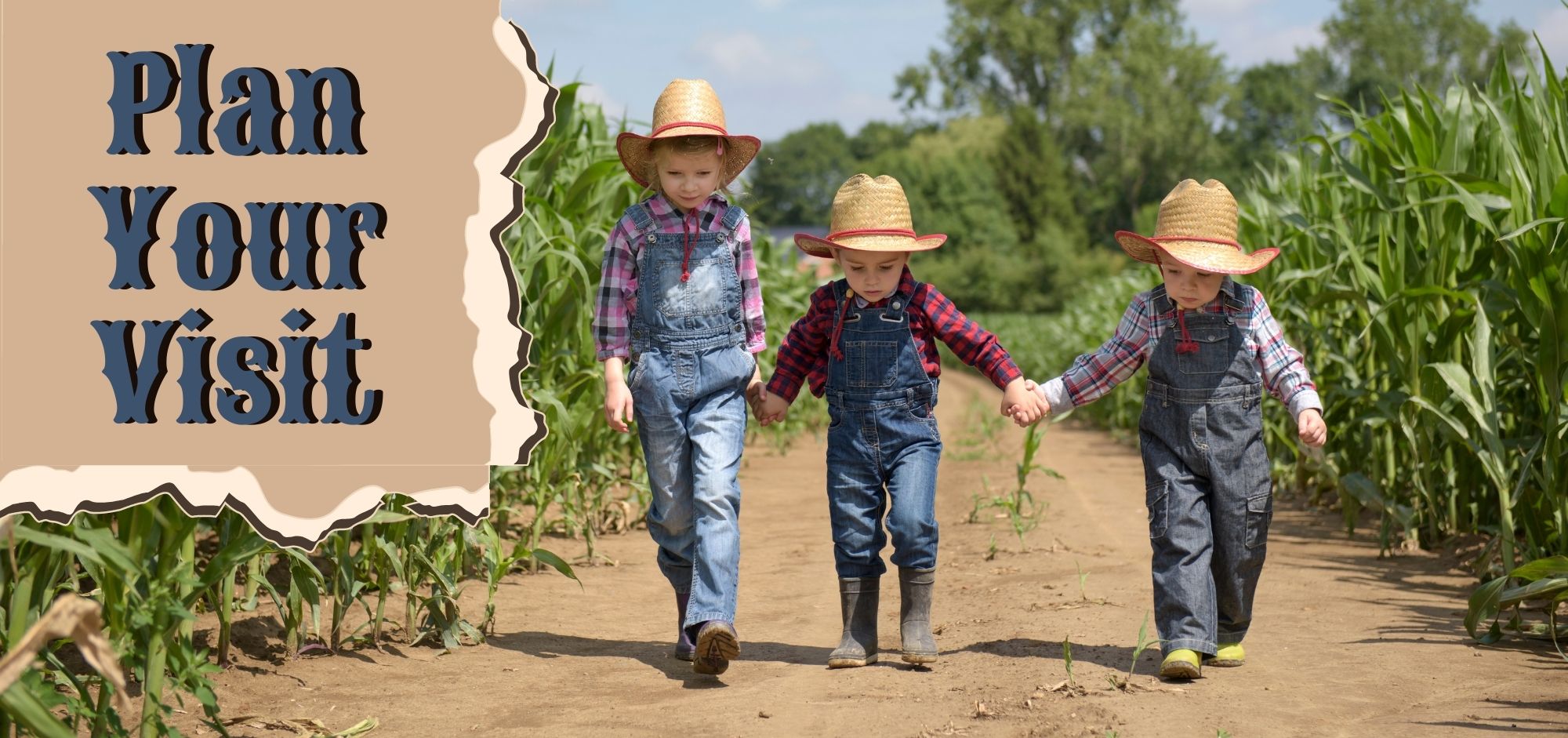 Plan Your Visit
Tips for Your Visit to Rounds Ranch
Pre-Purchase Tickets Online
Be sure to purchase your tickets ahead of time online! Maximum savings when you book more then 30 days in advance. Discount decreases when booked closer to date of visit.Please arrive on-time, at the time you booked!  If you are running late due to unexpected traffic please do NOT call the Ranch – just come as soon as you are able to.
Dress for the Weather
Check the weather before coming and dress accordingly. We are open rain or shine so come prepared with rain jackets and umbrellas. Dressing in layers will allow you to add or remove clothing throughout the day. We recommend a supportive pair of walking shoes to keep your feet comfortable (avoid sandals, crocks, flip flops, or high heels). For small children we recommend shoes that can easily be put on and taken off as you cannot wear shoes on the Jumping Pillow.  Socks must be worn on the Jumping Pillows during COVID19 so if wearing sandals please pack a pair to wear or purchase a pair at our admissions booth.
Rain
We are open rain or shine.  If it begins to downpour within 45 minutes of your arrival and you wish to leave within that time, you will receive a rain check to come back for a visit another day. You must present your proof of purchase (time must be within 45 minutes) in order to receive the passes.
Pack the Necessary Provisions
Everyone must wear a mask on the wagon ride.  Consider bringing water bottles, sunscreen, towel & bathing suit – suggested but not mandatory (for Slip'n'Slide, Water Maze and Bandits Bubble Bash) , socks for the Buckaroo Bouncers (jumping pillows), comfortable shoes to wear on uneven terrain.
Bring your own Wagon
We have a limited number of wagons to use as a stroller for your young child so it is advisable to bring a stroller as our property is quite large for wee ones to walk.  Large wheel strollers work  much better than the small wheels in our fields and petting zoo.
Yes, small dogs are allowed
You are welcome to bring your small dog if you keep him/her on a leash and clean up behind them.  Only lap dogs are allowed on the wagon ride as some of our guests may have a fear of dogs.
Food
Our Cookhouse is open serving hamburgers, hot dogs, fresh cut fries, poutine, hot and cold drinks, snacks and treats.  You are welcome to bring your own food if you have a special diet.
COVID19 – Masks, Social Distance and Sanitizing Your Hands
Don't forget to bring your face covering, as face coverings are mandatory on the wagon ride.  We ask that you maintain 6 feet (one horse length) between you and other families visiting the Ranch.  We have hand sanitizing stations throughout the Ranch.  Please sanitize your hands prior to using any of our equipment for your protection and the protection of others.  Socks must be worn on the jumping pillows.