Summer Fun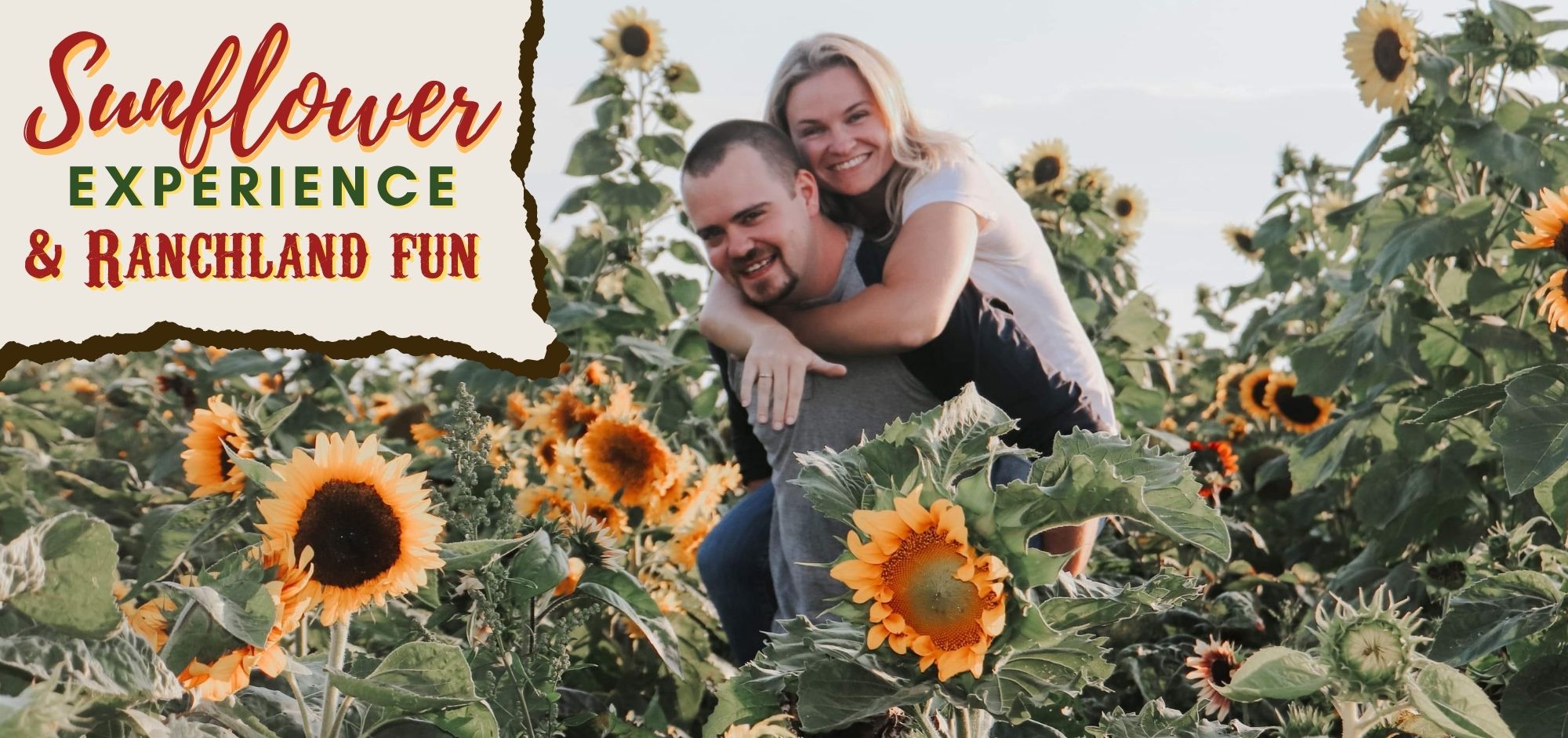 Welcome to our 2023 Sunflower Experience
August 1st – September 4th
Enjoy a safe, outdoor farm experience in the midst of stunning sunflowers and gorgeous cut flowers.
We are open from Tuesday to Saturday, from 10am to 5pm, and although staff-operated activities will close at 5pm, you're welcome to stay for all non-staff-operated activities until 6 pm.
Plus, every Saturday from August until September 2nd, we have our Sunflower Sunset Sensation, where we're open from 5pm till dusk. You can add this exciting experience to your ticket for just an extra $3.00 per ticket.
Your Sunflower Experience includes:
A scenic wagon ride to the back of the Ranch
Meander through 10 acres of 60 different varieties of beautiful cut flowers and experience peace and tranquility in the quietness of a large field.
Take loads of pictures to capture memories of your day.  Unique props throughout the field provide amazing photo backdrops.
Pick your favourite sunflower to take home.  Snippers, bags and water are provided in the field tent.
Purchase a decorative bucket and fill it to the brim of sunflowers and cut flowers
Enjoy 25+ activities in Ranchland (included in your admissions price).
Experience the thrill of going down the 500′ Slip'n'Slide (additional fee)
Ride a horse or pony (additional fee).  Book your ride at the gate.
Ticket Pricing 2023
BOOK AHEAD & SAVE: By booking online, you can save $2.00 per ticket off our gate price. The earlier you book, the greater the discount, with a maximum savings of $6.00 per ticket when you book 30 or more days in advance.
20+ GROUP DISCOUNTS: When you book a group of 20 or more people, you can enjoy maximum savings of $6.00 per ticket off our gate price.
Youth & Adult Pass (10-64)
Tuesday-Friday Gate Price $22.99 starting as low as $16.99 (up to $6.00 off with our BOOK & SAVE and 20+ GROUP DISCOUNTS)
Saturday & Holiday Monday Gate Price $24.99 starting as low as $18.99 (up to $6.00 off with our BOOK & SAVE and 20+ GROUP DISCOUNTS)
Kids Pass (2-9) & Seniors (65+)
Tuesday-Friday Gate Price $19.49 starting as low as $13.49(up to $6.00 off with our BOOK & SAVE and 20+ GROUP DISCOUNTS)
Saturday & Holiday Monday Gate Price $21.49 starting as low as $15.49 (up to $6.00 off with our BOOK & SAVE and 20+ GROUP DISCOUNTS)
Slip'N'Slide Day Pass
Experience the thrill of going down our 500′ tube Slip'n'Slide.  Ride all day for only $7.49 (with an online purchase) regular gate price $9.95 with paid admission